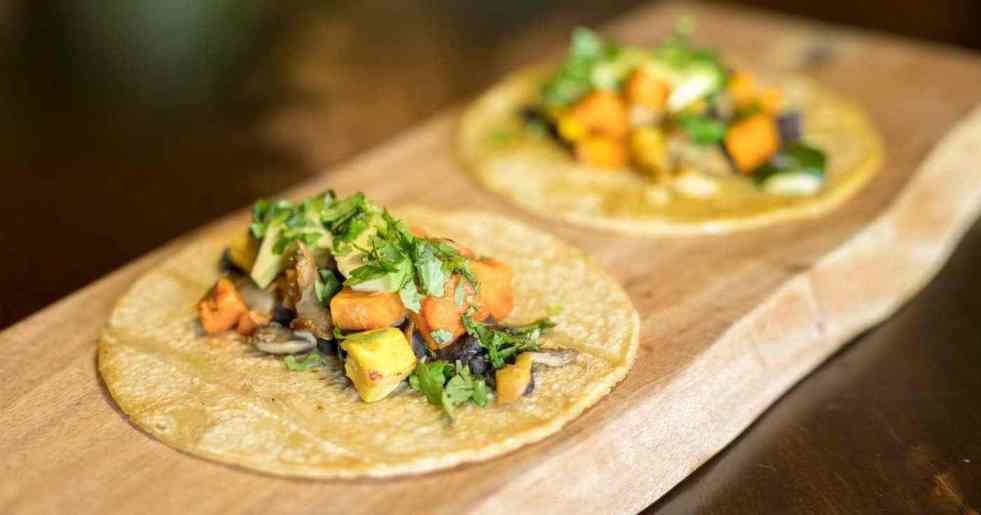 There never isn't a good time for tacos. One of my favorite things to make for breakfast is an egg or tofu-based breakfast taco with plenty of avocado and hot sauce. They're such a versatile meal that you can have any time of day with whichever ingredients you have on hand.
This roasted veggie taco recipe is adapted from my former boss and friend, Rachel Zierzow. She's a certified natural foods chef who places an emphasis on plant-based, gluten-free cooking, and she has taught me so much about cooking with nutritious foods when eating dairy-free or vegan.
These tacos are packed with fiber, healthy carbs, and nutritious vegetables, no matter what you choose to include. I like this recipe with roasted sweet potato, mushroom, corn, and black bean, but Rachel's version adds zucchini and green beans as well. Feel free to choose your own adventure (or whatever you see in your fridge).
Roasted Veggie and Black Bean Tacos
Makes: 8 Tacos
Ingredients:
2 cups cooked black beans

1 cup cooked corn

1 cup (1 large) roasted sweet potato, cubed

1 cup shiitake mushrooms, trimmed and sliced

1/2 cup fresh cilantro, chopped

2 ripe avocados, sliced or cubed

1/2 teaspoon sea salt

2 limes, cut into wedges

1 package non-GMO corn tortillas (El Milagro brand recommended) or Cassava flour tortillas (Siete brand recommended)

Salsa

Olive oil

Chili, cumin, or other taco seasoning (optional)
Instructions:
Preheat oven to 400 degrees fahrenheit. Line a sheet pan with a silicone baking sheet or parchment paper.

In a large mixing bowl, combine cubed sweet potato, sliced mushroom, and corn. Sprinkle with salt, pepper, taco spices (optitonal) and 1-2 tablespoons of olive oil. Ensure all veggies are coated with oil and spread them on the baking sheet.

Cook for 10 minutes, then pull out and toss veggies around to make sure they cook evenly. Cook for 10 more minutes. Remove from oven when edges turn golden brown.

Place roasted veggies back into mixing bowl and mix in fresh cilantro. Cover and set aside.

Strain liquid from black beans if using canned, then heat up the beans in a small saucepan. Season to your liking - I love to add chili pepper and cumin to mine. Or, dice and saute a sweet onion to add a crunch to your beans.

If you prefer mashed beans, add a tablespoon of olive oil to the saucepan and mash with a fork when the beans get soft. Add water (for creaminess) and salt as needed.

Heat a cast iron skillet (or nonstick skillet) over medium heat for about a minute. Add a few drops of olive oil and place tortilla on hot skillet. Using a flat spatula, flip tortilla every 10-15 seconds to heat up evenly on both sides. Remove to a plate or a tortilla warmer and make sure to cover with a clean towel or pot lid. Repeat with as many tortillas as you need, about 2 per person. Tortillas can also be kept warm in a 200 degree oven by placing in an ovenproof dish (like a pie plate) and covering with foil.

Pass around the tortillas and allow each person to fill their tacos with roasted veggies, avocado, and salsa. Garnish with cilantro and a squeeze of lime. Enjoy!
---
About the author, Kristin Yorke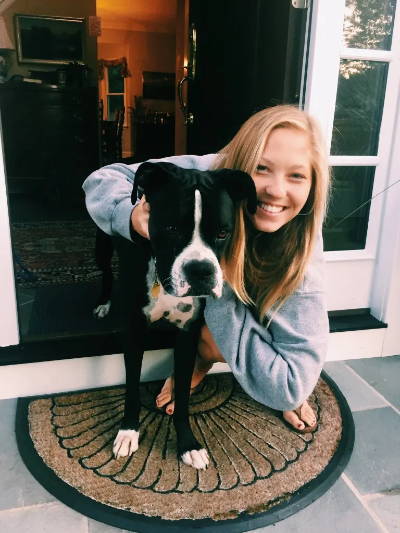 Kristin Yorke is a writer, reader, and a lover of all things she can do outside, preferably with her Boxer, Luna. She received her bachelor of arts from Colby College in Waterville, Maine, where she powered her collegiate lacrosse career on a dairy-free diet. She has been a dairy-free eater for 3+ years and is dedicated to exercising often and eating as many plants as possible.