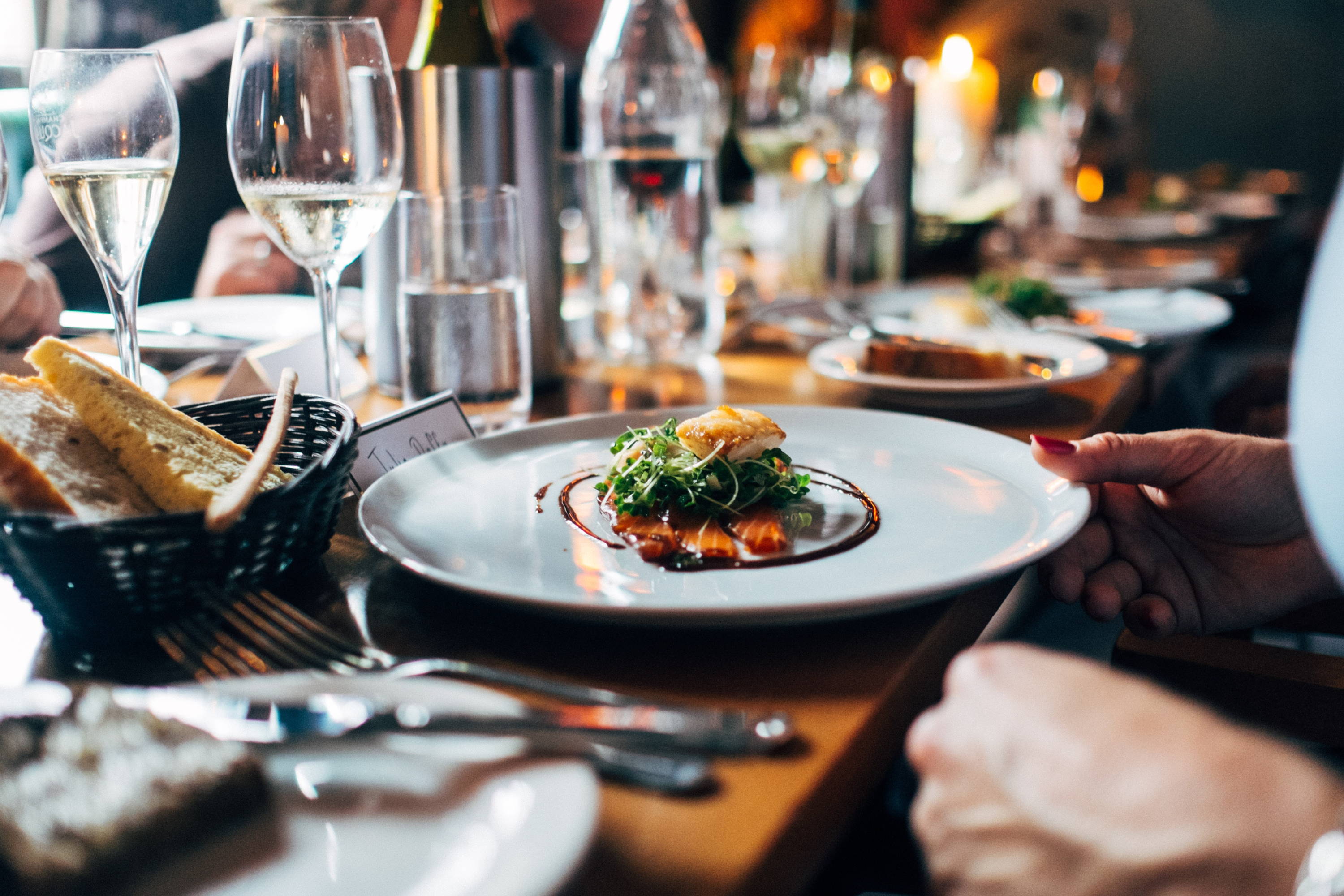 ---
Eating out is almost an essential part of American culture. When the pandemic kept everyone inside for months this spring, recipe searches on Google hit a high for 2020. These levels have since dropped, understandably, as we're no longer searching for whipped coffee, sourdough bread starters, and the best banana bread recipes to fill our time.
Most restaurants across the U.S. have now opened their doors up to customers, and whether their preferred method of product delivery is Doordash or traditional dining, it's clear that Americans are heading back out to their favorite diners, drive-ins, and dives.
Going out to eat isn't a celebration for everyone, however. For people struggling with food intolerances or allergies, it can be a struggle finding a way to enjoy eating out and spending time with friends and family, especially if the restaurant isn't known for having allergy-friendly options.
Those who suffer from a dairy allergy, lactose intolerance, or a dairy intolerance are particularly prone to this struggle. Butter, cheese, and milk, it seems, are impossible to avoid at restaurants. But really, it only seems that way. You just need to know the right tricks to perfect the science of dairy-free eating out. We promise you can enjoy that time with friends and family and still find something on the menu that suits your needs, especially when you use these tried-and-true tricks.
What kinds of restaurants are good for a dairy-free diet?
If you can, try and control where you're going, or suggest options you know are safe.
Hopefully your friends and family are aware of your allergy or intolerance and won't drag you along to the dairy-free eater's nightmare of a pizzeria or Italian restaurant. But if you aren't comfortable sharing your intolerance, or if you just happened to lock in that first date you've been waiting for and don't want to complicate it, don't worry.
The dreaded indecision that follows the question "where should we go out to eat?" can totally work to your advantage. Do a little research, find a restaurant that you know offers some safe entrees (seafood dishes, salads, and Asian or plant-based restaurants are usually great options) and suggest that you get a reservation there. Or, if you know that your group really can't shake the idea of pizza or Italian, find a spot that offers vegan cheese. You'd be surprised how many restaurants are pretty woke on vegan products.
By choosing the restaurant before you even make the reservation, you'll eliminate the pit of stress in your stomach those moments before you arrive. Plus, you'll already have your eye on a few dishes before anyone has looked at the menu, so you can spend more time focusing on your friends and family.
What should I order at a restaurant if I am dairy-free?
Previewing the menu is key
This definitely goes hand-in-hand with choosing the restaurant, but looking through the menu ahead of time is a huge time saver and stress reliever that deserves to be mentioned again. Even a quick scroll through the menu in the Uber before you arrive can save so much time and ease the stress in your stomach, especially if you have a group of friends that are usually anxious to order as soon as they sit down. It'll give you peace of mind and, hopefully, will let you look forward to the meal you're getting instead of dreading it.
Be wary of the shared appetizers
I love a shared appetizer as much as the next girl, but dairy intolerant folks should definitely be wary. Appetizers are not usually friendly to the dairy-free eater. For some reason, restaurants love to coat things in cheese or creamy sauces with no regrets. That being said, there is definitely a dairy-free option somewhere on that list (salads, seafood). Try suggesting one of these appetizers to your group and see if it takes. Usually, at least one suggestion will, and if you're with a larger party, you'll likely order a few small plates, so your likelihood of squeezing in a dairy-free option is higher.
By no means do you need to announce that you won't be eating unless you get the dairy-free appetizer. A gentle suggestion when everyone is throwing out ideas is harmless and doesn't have to implicate your intolerance at all.
If your suggestion is overlooked and the ordered appetizers look like a danger zone, try getting a small salad or soup if you're comfortable ordering your own starter. If not, you can tell your friends you're looking forward to your meal or that you just aren't interested in what they chose. If all else fails, order yourself a fun drink so you have something to look forward to when their appetizers come.
Don't be afraid to modify
This is a huge lesson to learn as a dairy-free eater, and a good one to learn quickly. You may see a delicious salad you'd love to order, but notice it's served with a creamy dressing or bleu cheese crumbles. These are so easy for the server to swap out or remove! Do not be afraid to make changes. It may feel awkward or uncomfortable when you're around a big group, but you'll be so much happier with yourself once your meal comes. And chances are, with a bigger group, no one is even going to hear you ordering.
This tip goes for sharing entrees as well! If your friend is dying to split that chicken pesto flatbread with you, ask the server if you can get half with cheese and half without. This should be an easy fix for the kitchen. And if that pasta marinara your splitting usually comes with cheese, ask for it on the side. That way each person can happily customize their own portion.
Make sure you keep an eye out for the hidden dairy
This is a huge part of dairy-free eating out. When you're cooking your own meals at home, you have complete control over what goes into sauces and salad dressings. Unless you ask your server, you usually won't see a list of exactly what is in the sauce on that fancy chicken dish.
The hidden dairy (milk, cream) is usually found in those heavy sauces served with pasta or chicken. Heavy cream or milk can also be found in a lot of salad dressings, so be sure to check what's in the dressing you ordered. Or just be safe and ask for a vinaigrette, which is oil and vinegar based and completely dairy-free.
Cheese is a staple in most salads, so make sure you don't miss that when you peruse the ingredients list. Side dishes, like brussel sprouts, green beans, or other veggies, are often tossed in butter and topped with cheese, so unless you know they're steamed, it may be best to avoid them. If you can tolerate butter, don't be afraid to modify and ask your server to serve them without cheese.
Dairy-free eating out does not have to be the disastrous stressful experience we all chock it up to be in our heads. There are plenty of cuisines that avoid cooking with dairy, like Chinese, Japanese, and Thai. There are also so many vegan and plant-based dishes served at traditional restaurants that are dairy-free and still delicious.
Being mindful about your restaurant choice, reading the menu thoroughly, and asking for substitutions is a big part of successfully enjoying meals out with family and friends. Soon enough, you'll be an expert at spotting the hidden dairy in dishes and won't feel weird about asking for cheeseless pizza. And don't forget, No Cow protein bars can easily fit in your bag or jacket pocket if you're truly stuck.