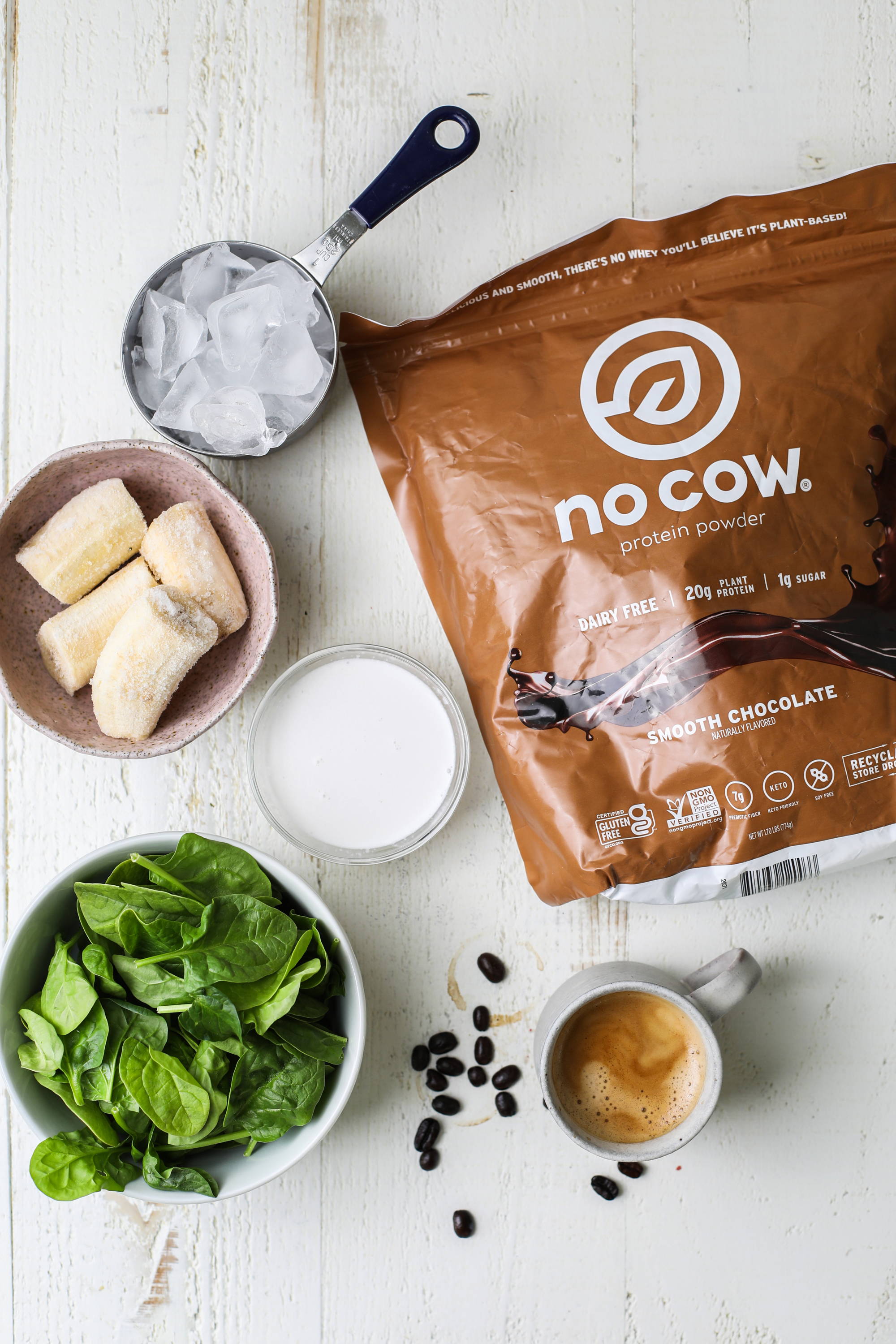 Photo Credit: Michelle Miller
---
INGREDIENTS:
1 banana frozen

3 cups spinach fresh or frozen

1 1/2 cups ice

3 shots espresso or 1/2 cup cold brew coffee or 2 teaspoons instant coffee

1/4 cup coconut milk full fat

1 scoop No Cow Chocolate Protein Powder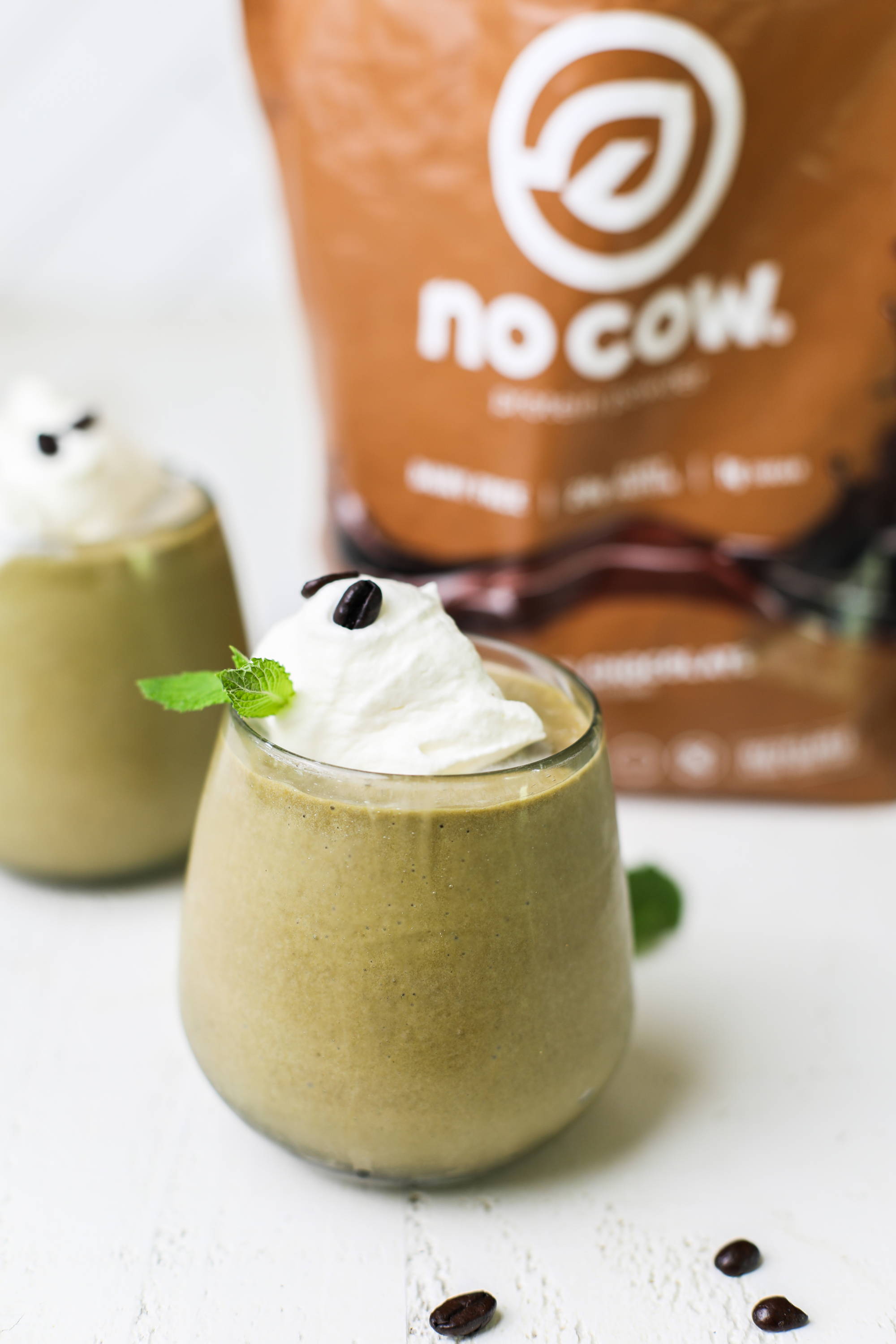 Photo Credit: Michelle Miller
Instructions:
Add chilled coffee, coconut milk, spinach, frozen banana, ice, and protein

powder to a blender. See notes below for optional additions to customize this

based on your personal needs!

Process until a very smooth and creamy texture is formed.

Enjoy smoothie as is, or for a "coffee house" style treat, add a dollop of

coconut whipped cream.
VANILLA COFFEE PROTEIN SHAKE
Follow the instructions are written, using a vanilla protein powder. Omit the spinach if you'd prefer a thinner texture.
MOCHA COFFEE PROTEIN SMOOTHIE
Use No Cow Smooth Chocolate Protein Powder plus 1 tablespoon of raw cacao ornatural cocoa powder (unsweetened).
ADD MORE CARBS
If you have higher carb needs for your breakfast, add these healthy options:
Rolled Oats (2-3 tablespoons!)

Maple Syrup or Honey (1 tablespoon)

Extra banana! (my personal favorite carb to add to smoothies)
ADD MORE HEALTHY FATS
Almond Butter or Cashew Butter (1-2 tablespoons)

Coconut Oil or MCT Oil (1 tablespoon)

Ground Flax (1 tablespoon)

Hemp Seeds (1-3 tablespoons)
ADD EXTRA FIBER
Chia Seeds (1-2 tablespoons)

Zucchini (1/2 cup frozen)

Psyillium Husk (1-3 teaspoons)
EXTRA PROTEIN
Collagen Peptides (isn't plant-based)

Whole Fat Greek Yogurt or Coconut Yogurt (1/4 cup, use plain Greek

yogurt for no added sugar)
---
Additional notes:
LOW CARB COFFEE SMOOTHIE
Use frozen zucchini in place of the frozen banana. The protein powder will keep this smoothie sweet and delicious!
HOW TO PREP COFFEE SMOOTHIES AHEAD OF TIME
If you're short on time in the mornings, prepare these smoothies ahead of time by making smoothie kits. Into a plastic freezer bag or glass container, add the frozen banana, spinach, ice, and protein powder (plus any dry additions, like chia seeds or cacao powder).
When you're ready to enjoy your smoothie, empty the contents into a blender along with your coffee and plant-based milk of choice.
CAN YOU PUT COFFEE BEANS IN A SMOOTHIE?
Yes! You can use 1-2 tablespoons of whole coffee beans in a smoothie if you're using a high speed, powerful blender. The beans won't completely break down and have the same consistency as using brewed coffee or espresso, but it will give you a perfect coffee flavor. This adds texture, similar to blending cacao nibs.
CAN YOU PUT COFFEE CREAMER IN A SMOOTHIE?
Yes, you can use coffee creamer in a smoothie in place of milk. For this coffee smoothie recipe, use your favorite coffee creamer (I love NutPods Vanilla Creamer, which is coconut and almond milk) in place of the coconut milk.
CAN YOU PUT INSTANT COFFEE IN A SMOOTHIE?
Yes, instant coffee works great in smoothies. Use 2-3 teaspoons of instant coffee in this smoothie in place of the chilled espresso. Adjust the amount to how strong you like your coffee flavor. Increase the amount of coconut milk to reach the desired consistency.
---
---
Available in Vanilla and Chocolate. Mix No Cow Protein Powders into your post-workout smoothie or add to a low-sugar baking recipe. Plant-based, clean ingredients, amazing taste, unmatched texture. Expect anything different?
---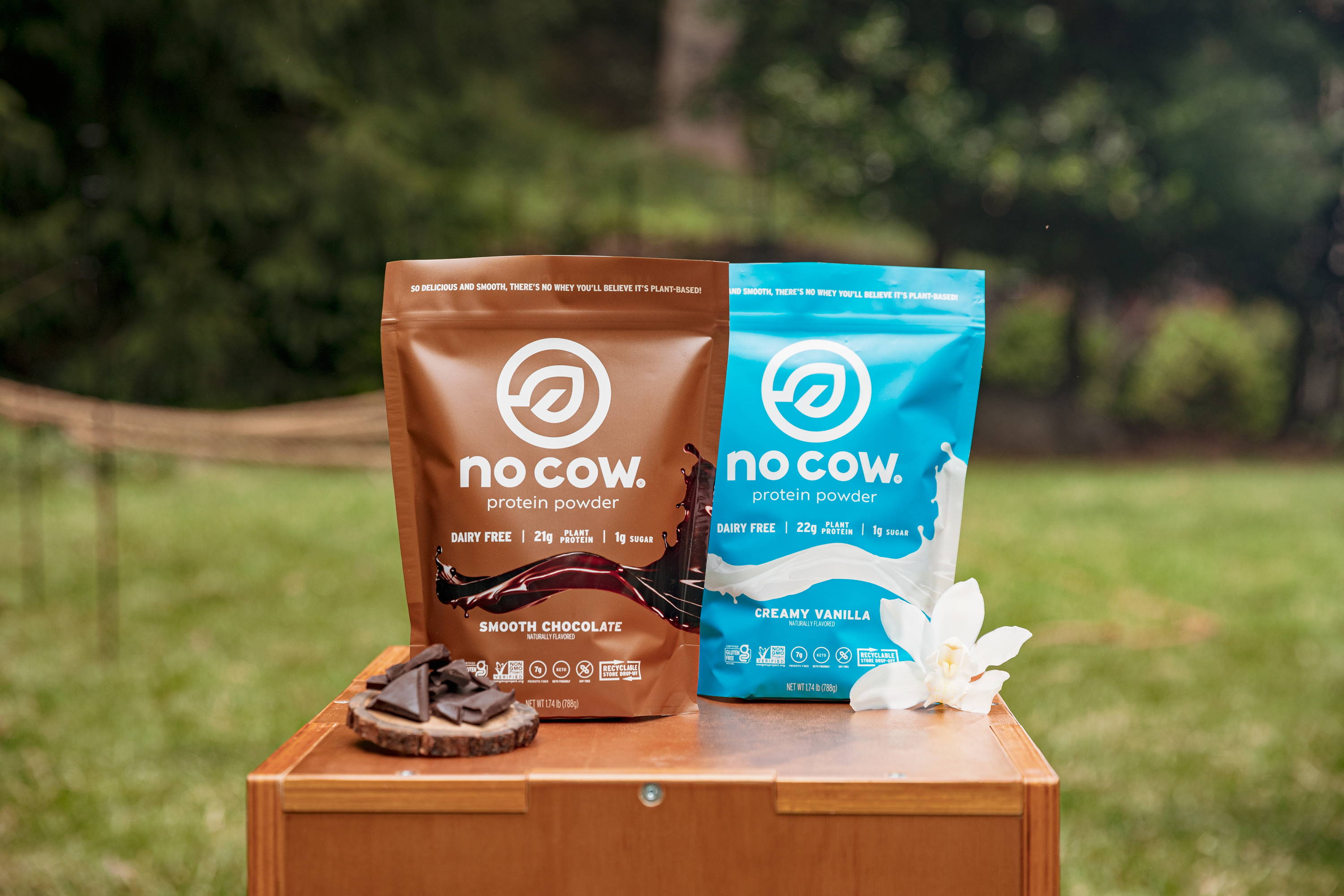 ---