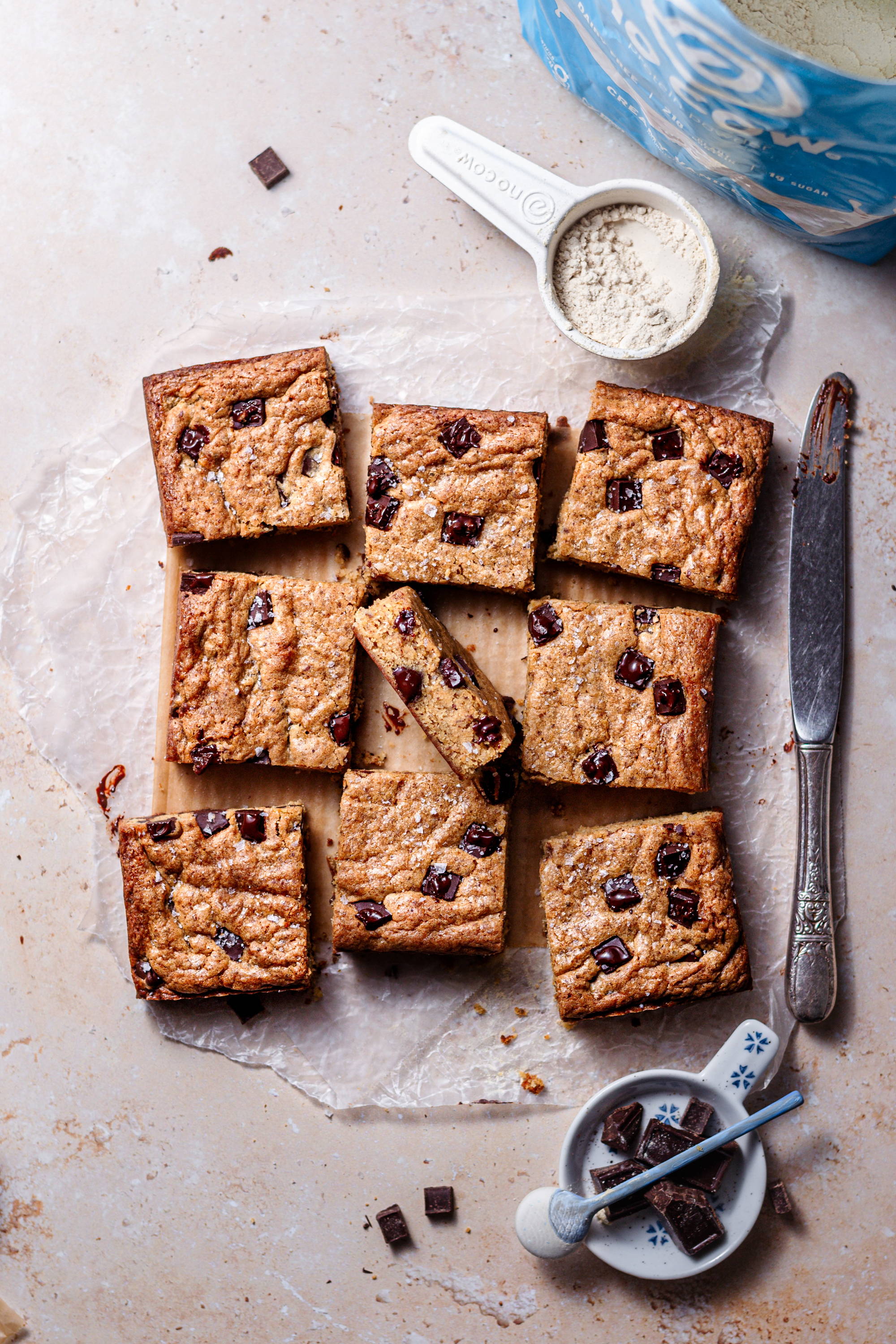 ---
INGREDIENTS:
2 tbsp (19g) Ground Flaxseed Meal

1⁄3 cup (90g) Unsweetened Almond Milk, or water

1⁄2 cup (110g) Salted Vegan Butter, melted and cooled

1 cup (200g) Light Brown Sugar, or a sugar free granulated brown sugar alternative- see notes*

1 1⁄4 cup (150g) All-purpose Flour, spooned into the bag and leveled off

1⁄2 cup (60g) No Cow Vanilla Protein Powder

3⁄4 tsp (4g) Baking Powder

1⁄2 tsp (3g) Salt

1⁄2 cup (60g) Vegan Dark Chocolate Chocolate Chips, or chocolate chunks

1-2 tbsp (15-30g) Unsweetened Almond Milk, optional- to add if the dough looks very thick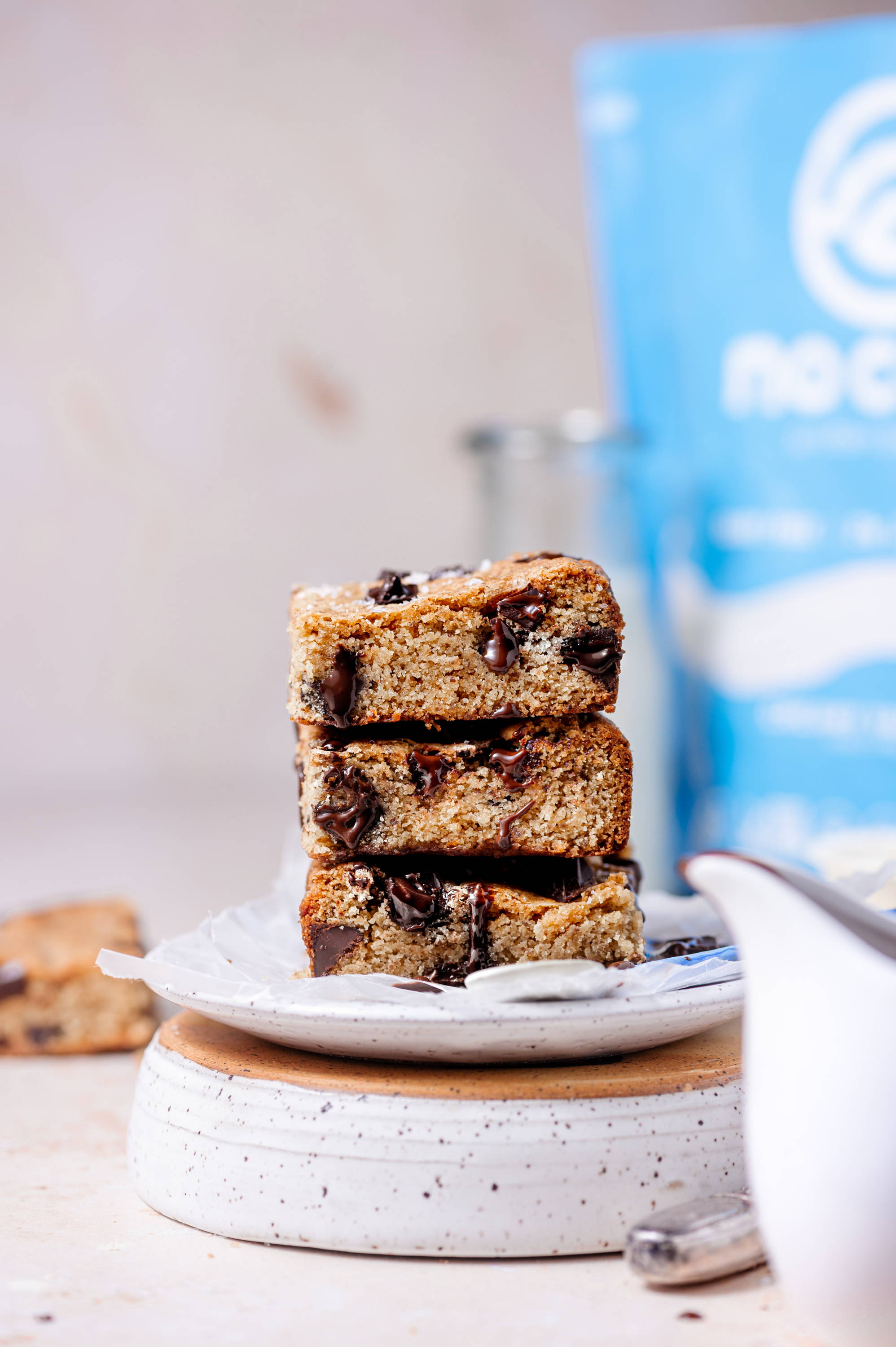 Instructions:
Preheat the oven to 350°F (175°C). Grease and line an 8x8-inch (20x20 cm) baking pan with parchment paper, leaving some overhang on the sides for easy removal.

In a small bowl, mix together the ground flaxseed meal and almond milk (or water). Set aside to thicken for 5-10 minutes. This will create a flax "egg."

In a large bowl, whisk together the melted and cooled vegan butter and light brown sugar (or sugar-free granulated brown sugar) until well combined.

Stir the flax "egg" mixture into the butter and sugar.

Add the all-purpose flour, No Cow's Vanilla Protein Powder, baking powder, and salt on top. Sift the dry ingredients together with a fork, then mix with the wet ingredients, stirring until just combined.

Fold in the chocolate chips or chocolate chunks.

Pour the batter into the prepared baking pan, spreading it evenly with a spatula. If desired, sprinkle additional chocolate chips or chopped chocolate on top.

Bake for 28-35 minutes, or until a toothpick inserted into the center comes out with a few moist crumbs. Be careful not to overbake, as the blondies will continue to cook as they cool. The edges should be golden brown and should be pulling away slightly from the edges of the pan. The center should appear soft but not jiggly.
Allow the blondies to cool completely in the pan on a wire rack. Once cooled, use the parchment paper overhang to lift the blondies out of the pan.

Cut the blondies into 16 equal squares and enjoy! Store any leftovers in an airtight container at room temperature for up to 4 days.
Recipe notes:
Sugar substitute: This recipe has been tested with a sugar-free granulated brown sugar (Swerve brand). If you prefer, you can substitute the regular light brown sugar with a sugar free alternative using a 1:1 ratio. Please note that using a sugar-free brown sugar substitute will result in a slightly cakier and less fudgy texture in comparison to using regular light brown sugar.

Baking time: Baking the blondies for a shorter time will result in a gooier, fudgier texture. Keep an eye on them during the baking process and adjust the time to achieve your desired consistency.
---
---
About the Author, Emily Wise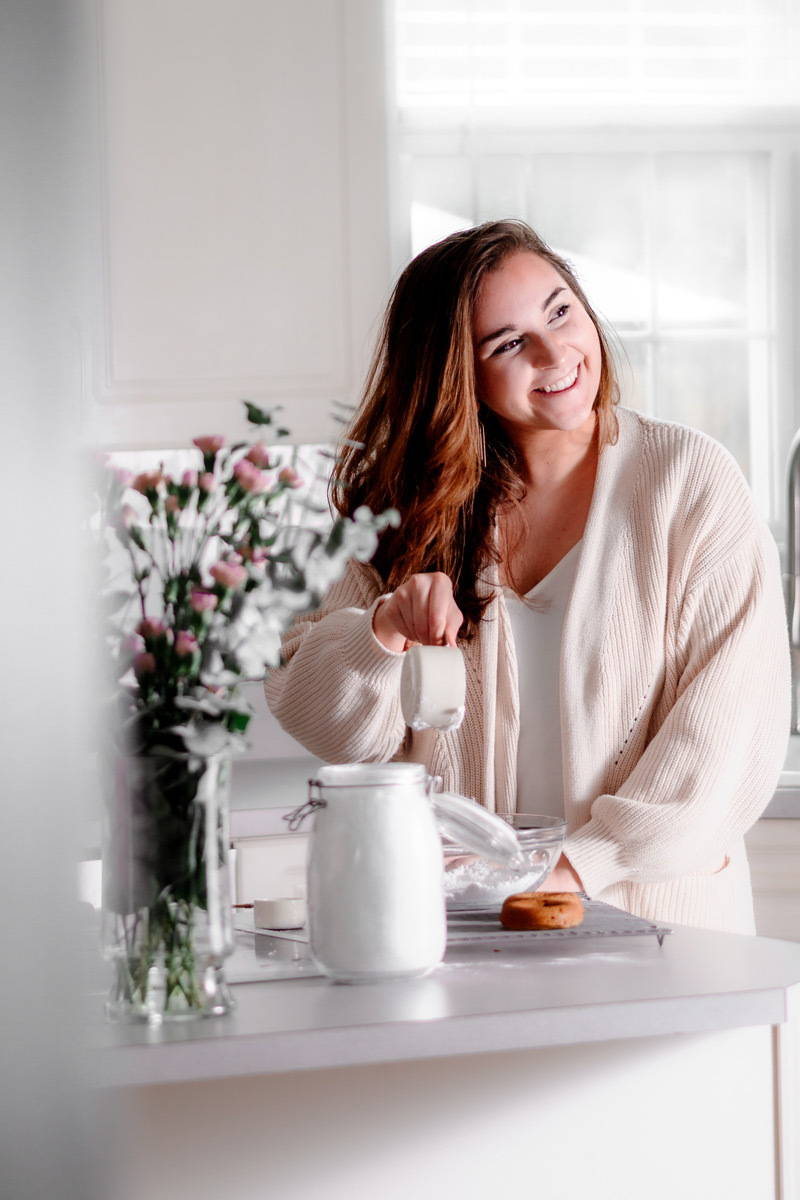 Emily Wise is a dedicated and approachable vegan recipe creator who has built a welcoming space for food lovers of all backgrounds with her popular blog, Thank You Berry Much (www.tyberrymuch.com). As the founder, photographer, recipe developer, and writer, Emily skillfully transforms classic comfort foods into delightful plant-based recipes that everyone can enjoy, regardless of their dietary preferences.
Leveraging her 12 years of vegan experience, Emily's expertise shines through in her ability to craft unique, homemade dishes that evoke a sense of nostalgia for her readers. Her affinity for bright, moody, and colorful images is showcased in the visually stunning photographs she captures, highlighting the scrumptious, plant-based creations featured on her blog.
Thank You Berry Much is an inclusive space that welcomes all eaters. In addition to her innovative recipes, Emily provides valuable resources such as vegan baking guides and tips on incorporating plant-based elements into any diet. Through her blog, Emily makes plant-based recipes approachable, inspiring her audience to explore environmentally-conscious choices and discover new foods or flavors.
Discover more of Emily's mouthwatering recipes, captivating food photography, and helpful vegan resources by visiting her website, Thank You Berry Much, at www.tyberrymuch.com and following her on Instagram at @tyberrymuch.
---
---
Available in Vanilla and Chocolate. Mix No Cow Protein Powders into your post-workout smoothie or add to a low-sugar baking recipe. Plant-based, clean ingredients, amazing taste, unmatched texture. Expect anything different?
---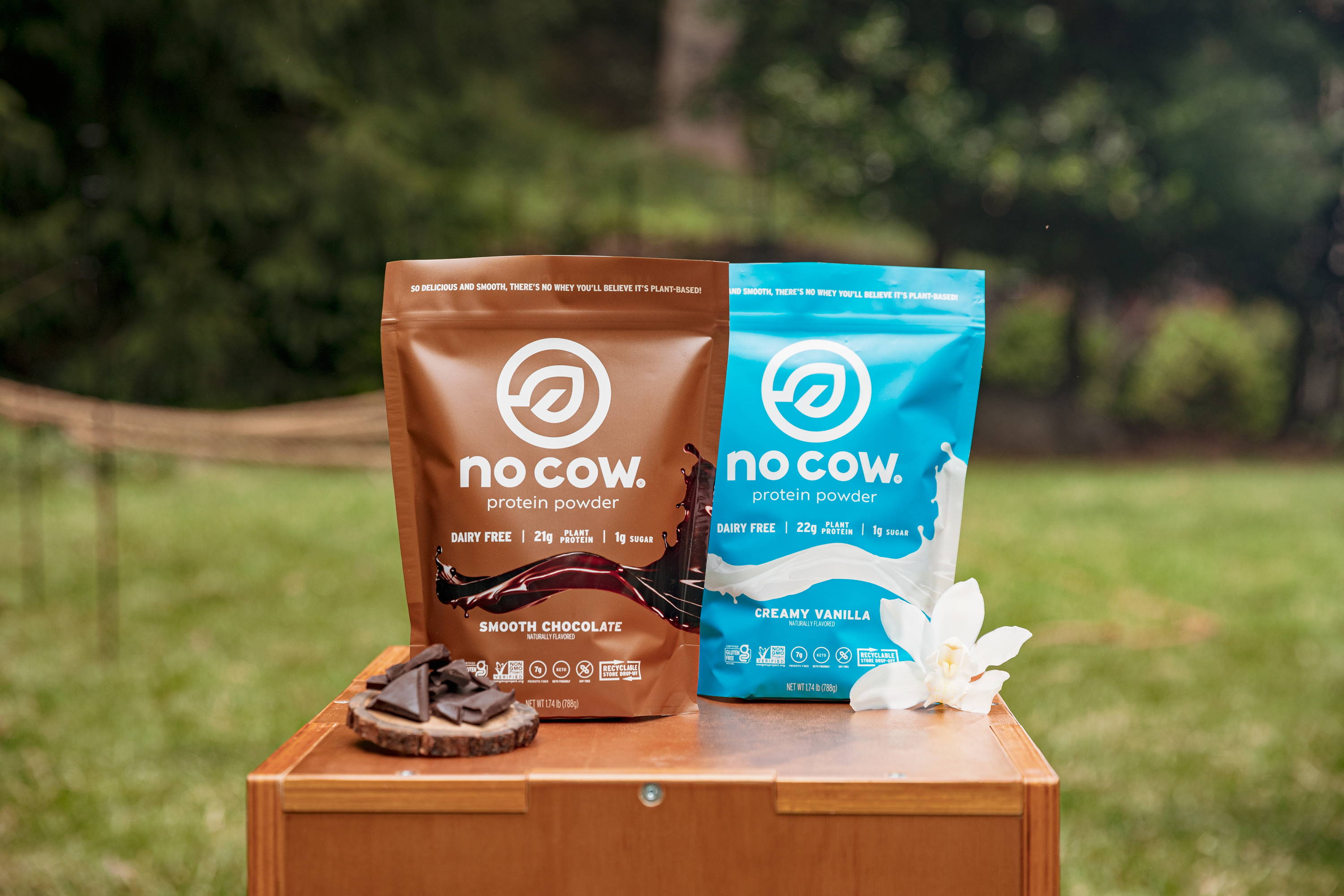 ---