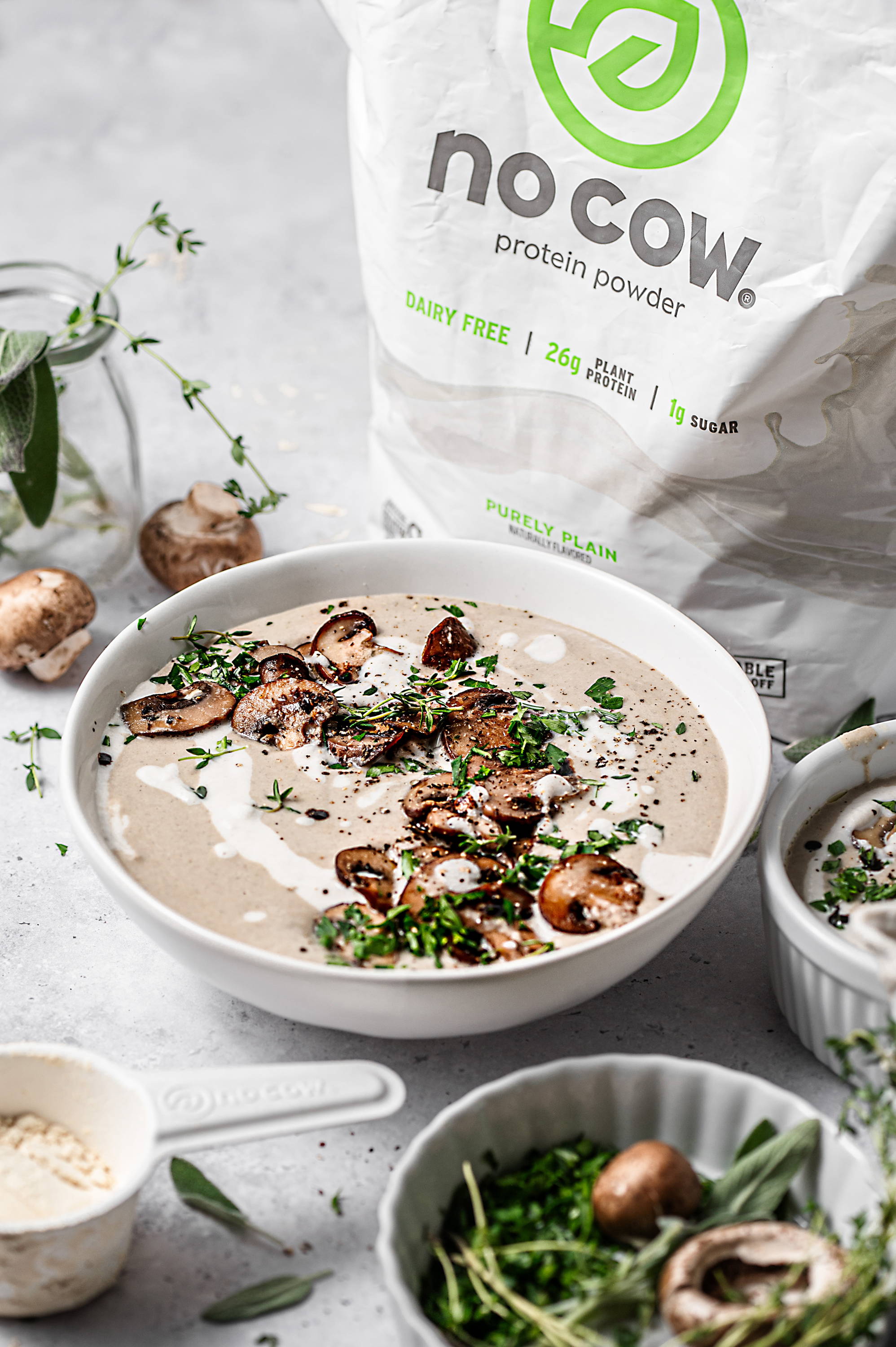 Ingredients:
Cashew Cream:

1 1⁄2 cups (225g) raw cashews

1 3⁄4 cups hot water

Soup:

4 tbsp extra virgin olive oil, divided

8 oz cremini mushrooms, sliced thin

8 oz mixed wild mushrooms, sliced thin

1 large yellow onion, diced (320g)

5 cloves garlic, minced (20g)

1 tbsp (15g) tamari or soy sauce

1 bay leaf

1 tbsp chopped fresh thyme

1 tbsp chopped fresh sage

1⁄2 tsp salt

1⁄4 tsp cracked black pepper

1⁄2 cup (60g) No Cow Purely Plain Protein Powder

1⁄4 cup dry white wine, optional (see notes for substitutions) 3-4 cups vegetable stock

1 tbsp (15g) balsamic vinegar

Serving:

Chopped fresh parsley and thyme Toasted crusty bread.
Instructions:
Soak Cashews: Place the cashews in a high speed blender and cover with the hot water. Let the cashews soak for 15-20 minutes.

Cook First Batch of Mushrooms: While the cashews soak, heat 1 tbsp of olive oil in a large pot or Dutch oven over medium heat. Sauté a quarter of the mushrooms (4oz) until brown, stirring occasionally. Then remove them from the pot and set aside until ready to serve the soup.

Sauté Onion and Remaining Mushrooms: In the same pot, add the remaining 3 tbsp of olive oil. Add the onions and the rest of the mushrooms, along with the garlic, tamari, bay leaf, thyme, sage, salt, and pepper. Cook for 10-12 minutes, stirring occasionally, until the mushrooms are tender.

Add Protein Powder and More: Stir in the No Cow Plain Protein Powder, cooking for another minute. Optionally, add dry white wine and cook until mostly evaporated (1-2 minutes).

Add Broth: Pour in 3 cups of vegetable broth, increase the heat to medium-high, and bring to a simmer. Simmer uncovered for 10 minutes, stirring occasionally.

Make Cashew Cream: After the cashews have soaked, blend them with the soaking water until very smooth. Transfer to a bowl or measuring glass. Mix 1 1⁄2 cups of the blended cashew cream into the soup.

Blend Soup: Remove the bay leaf from the pot and discard. Blend the soup with an immersion blender or pour the soup into a blender and blend until very smooth.

Add Balsamic Vinegar: Return the soup to the pot and add the balsamic vinegar and the remaining cashew cream, saving 1⁄4 cup for garnish. Heat until the bubbles from blending subside. If the soup is too thick for your liking, add up to 1 cup of extra broth to reach your preferred consistency.

To Serve: Spoon the soup into serving bowls and top with the reserved mushrooms from step 2, parsley, thyme, and cracked pepper. Drizzle the remaining cashew cream on top and serve with toasted crusty bread.
Dry white wine can be substituted for 1⁄4 cup vegetable stock.

Wild mushrooms can be substituted for more cremini mushrooms.
About the Author, Emily Wise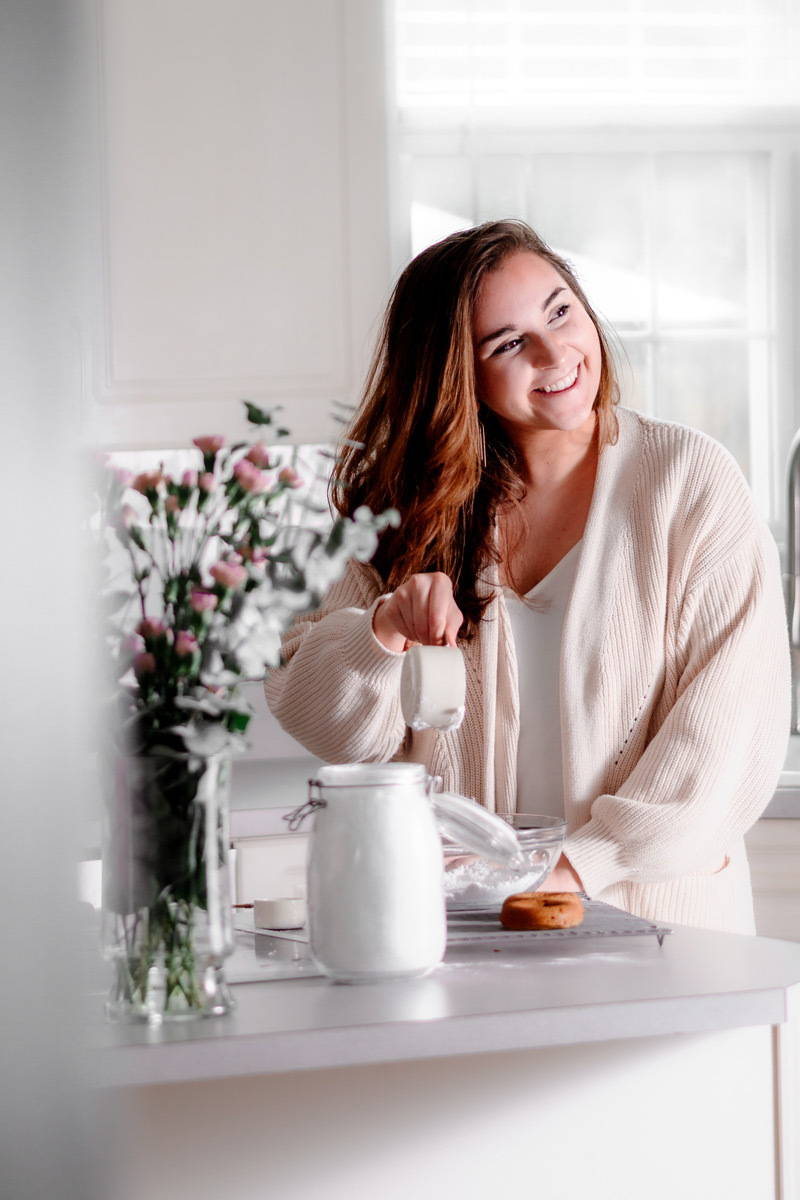 Emily Wise is a dedicated and approachable vegan recipe creator who has built a welcoming space for food lovers of all backgrounds with her popular blog, Thank You Berry Much (www.tyberrymuch.com). As the founder, photographer, recipe developer, and writer, Emily skillfully transforms classic comfort foods into delightful plant-based recipes that everyone can enjoy, regardless of their dietary preferences.
Leveraging her 12 years of vegan experience, Emily's expertise shines through in her ability to craft unique, homemade dishes that evoke a sense of nostalgia for her readers. Her affinity for bright, moody, and colorful images is showcased in the visually stunning photographs she captures, highlighting the scrumptious, plant-based creations featured on her blog.
Thank You Berry Much is an inclusive space that welcomes all eaters. In addition to her innovative recipes, Emily provides valuable resources such as vegan baking guides and tips on incorporating plant-based elements into any diet. Through her blog, Emily makes plant-based recipes approachable, inspiring her audience to explore environmentally-conscious choices and discover new foods or flavors.
Discover more of Emily's mouthwatering recipes, captivating food photography, and helpful vegan resources by visiting her website, Thank You Berry Much, at www.tyberrymuch.com and following her on Instagram at @tyberrymuch.
Now available in Purely Plain! Mix No Cow Protein Powders into your post-workout smoothie or add to any of your favorite recipes for a protein boost. Plant-based, clean ingredients, amazing taste, unmatched texture. Expect anything different?