Vegan Valentine's Day Treats
Photo Credit: Krystal Goodman
When you think of Valentine's Day you probably immediately think of hearts, flowers, loved ones, and especially chocolate!!! Who doesn't love a good chocolate treat? The problem is those chocolates usually also come along with loads of sugar and empty calories! What if we could get the same yummy flavor but now with protein and less sugar?
Taking your holiday chocolate to a new level by adding in no cows chocolate protein powder is just the way to one's heart! I've come up with 3 ways to add protein and drop your sugar in the treats below:
---
The first heart happy treat is truffles or chocolate candies. Making them even better by adding all the ingredients to keep your blood sugar regulated and balanced throughout the day is just the ticket for your loved one. Ive taken simple ingredients like coconut oil, cacao powder, stevia, nut butter, and no cow's chocolate protein powder to make these easy treats.
INGREDIENTS:
1/2 cup coconut oil

1/4 cup lakanto maple syrup

1/2 cup organic peanut or almond butter

1/4 cup cacao powder

1/2 teaspoon vanilla extract

 

1 scoop no cow chocolate protein
INSTRUCTIONS:
Slowly melt the coconut oil until liquid, then stir in remaining ingredients until smooth.
Pour into a silicone pan or foil-lined loaf pan. You could also fill  fun little silicone candy molds
Freeze for about 1/2 hour, or until firm.
Pop out, cut, and serve.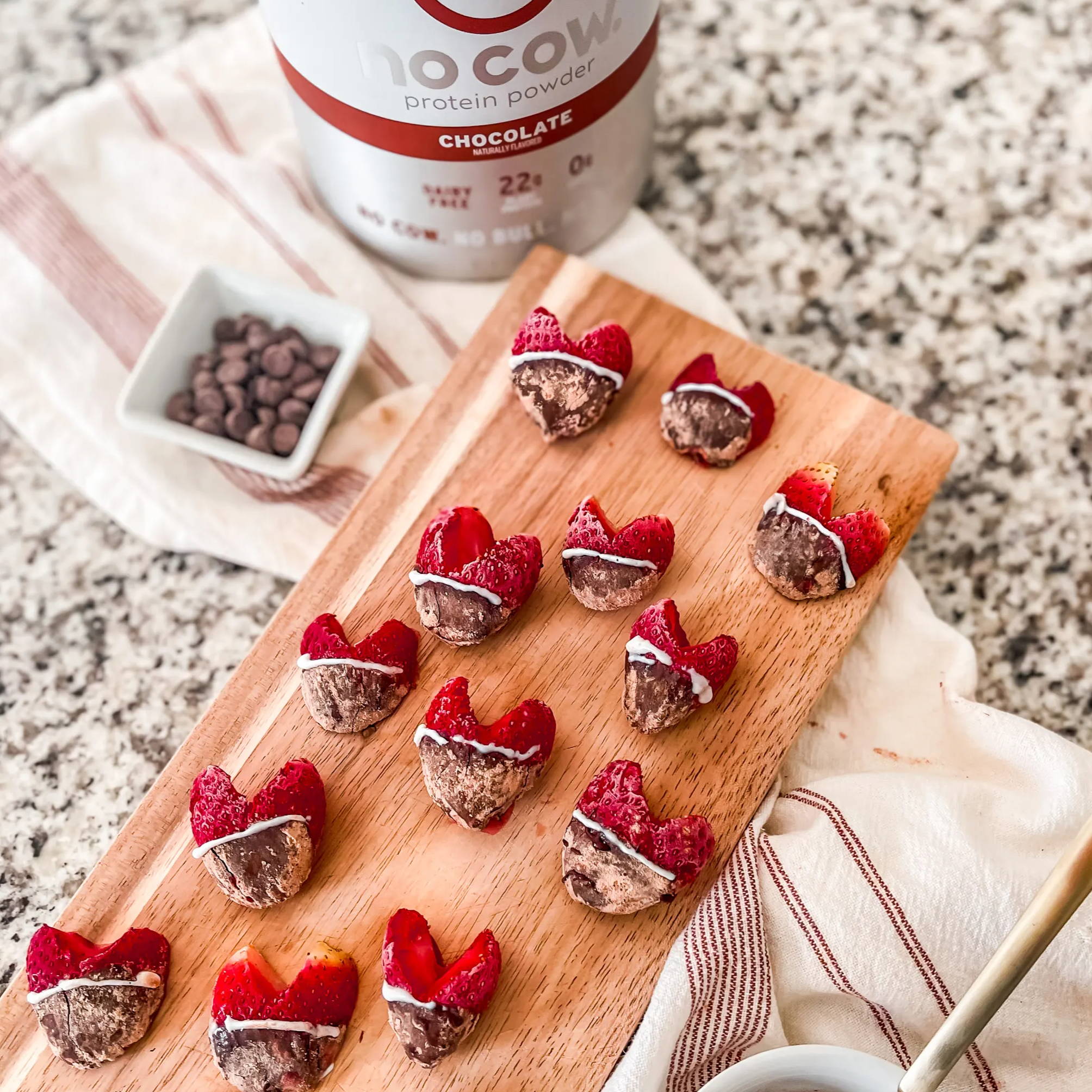 Next up......Chocolate Covered Strawberries. This is a staple when it comes to valentine's day! Most of us either rush to the store for the premade kind or we buy our own and make them with the usual melting chocolate. A great spin on this one is using a chocolate with less sugar and then dipping them in no cows chocolate protein powder.
INGREDIENTS:
1 pint

 

strawberries, washed and dried thoroughly*

1/2 cup (3 oz.) dairy free semi-sweet or dark chocolate chips

1/2 tbsp. coconut oil

 

1 scoop of No Cow Chocolate Protein Powder
 
INSTRUCTIONS:
Line a baking sheet or large plate with parchment paper.

If you haven't already, wash and dry your strawberries. Use a paper towel or very clean dishcloth to dry each strawberry. Make sure each strawberry is completely dry before dipping.*

Melt your chocolate. Add chocolate chips and coconut oil to a microwave safe bowl, and microwave** in 20 second increments, stirring in between each increment, until the chocolate is smooth and glossy. (I typically pull it out of the microwave when there are only a few small bumps remaining. They'll finish melting as you stir and you don't risk scorching the chocolate!)

Now, you're ready to dip! Working quickly, hold each strawberry by the stem and coat it in chocolate, letting excess chocolate drip from the strawberry before transferring it to the prepared baking sheet. (Add any decorations other than a chocolate drizzle at this point.)

Repeat with remaining strawberries until they're all coated.

Place your protein in a bowl and dip each berry into the powder to coat.

Chill the strawberries at least 20-30 minutes, or until the chocolate is completely set.

If you want to drizzle them with additional melted chocolate for an extra layer of decoration, add that drizzle at this point and return to the refrigerator until set.

 

Remove from the refrigerator about 10-15 minutes before serving, and store any leftover strawberries in a single layer in an airtight container in the refrigerator.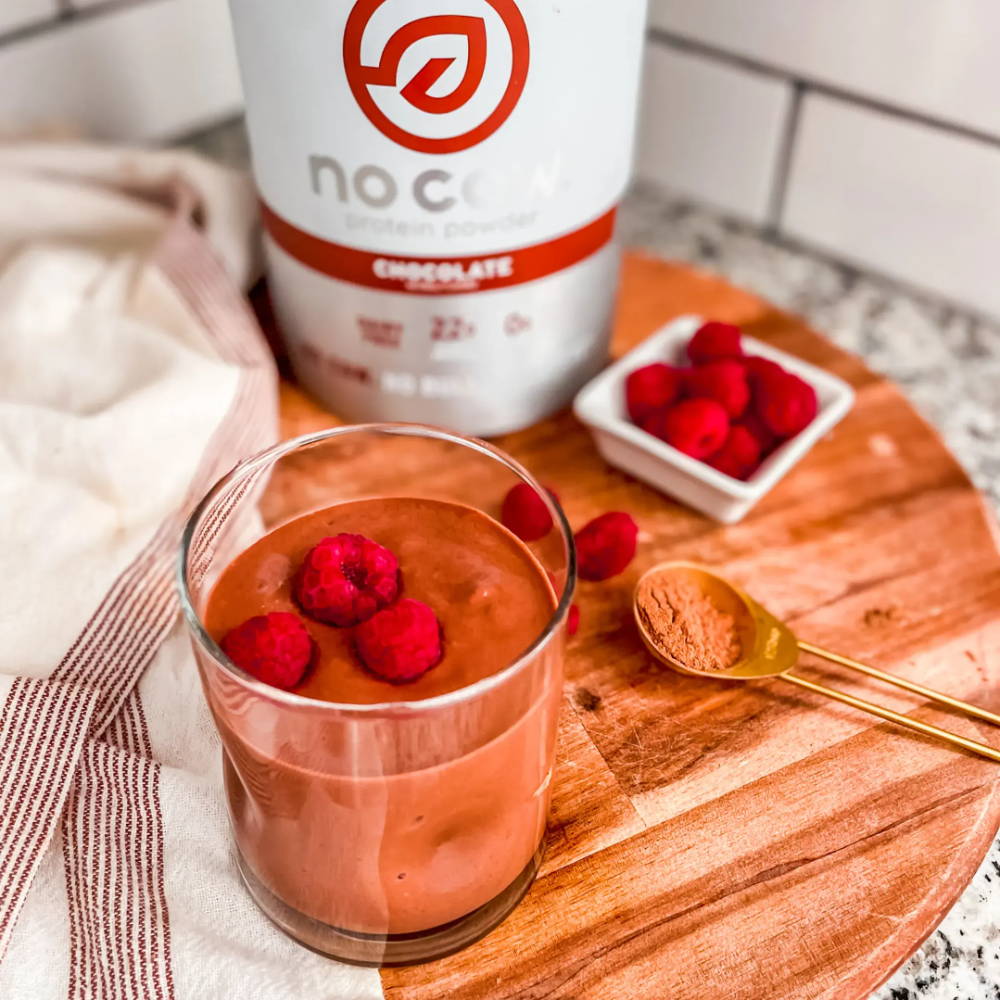 Last up is our Chocolate Covered Raspberry Shake! If candies and treats aren't the way to your heart maybe an easier throw it in a blender and mix it up is your jam! Raspberries and chocolate make a great taste combo for anyone!
Check out this easy Chocolate Covered Raspberry Shake below:
---
INGREDIENTS:
 

2 Tbsp unsweetened cacao or cocoa powder

3/4 cup almond milk

2 tbsp coconut cream that has been refrigerated

1 tsp vanilla

1 cups frozen steamed cauliflower

1/2 cup frozen raspberries

1 scoop No Cow Chocolate protein powder

 
 
INSTRUCTIONS:
Mix all ingredients together in a blender and enjoy!
Whether you love a good sweet tooth snack or a simple shake we've got you covered for this holiday of love! Enjoy it! 
---
About the Author, Krystal Goodman, FNTP CPT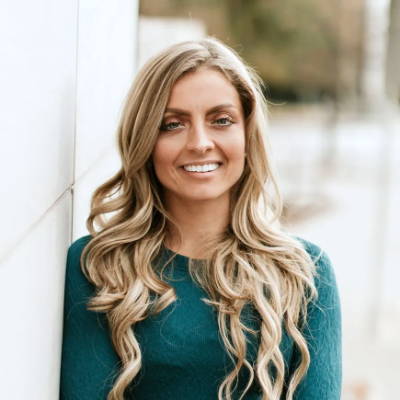 Krystal Goodman's passion for fitness and nutrition can only be matched by her clients' performance in the gym and her first-class meal-prep in the kitchen. For over ten years, Krystal has been a personal trainer, building an impressive cliental and more importantly, a reputation for her clients' results. She has shown her expertise as a coach while instructing fitness classes at Orange Theory Fitness when she isn't training one on one. Her national certification through NCSF as a CPT along with another in the world-renowned TRX training system, and AAHFF for nutrition make Krystal a versatile fitness professional.
Moreover, Krystal launched K's Klean Nourish in the Fall of 2019, creating the perfect clean-eating meal planning and nutrition counseling solution for life's demanding schedules. Nationally certified by the Nutritional Therapy Association as a Nutritional Therapy Practitioner, Krystal's knowledge of nutrition extends far beyond her incredible penchant for cooking.
You can view more of Krystal's info and resources by heading to her website: http://kskwikkleankitchen.com/ and following her on Instagram @thekleannutritionist!
---
---
Please give a warm welcome to the newest member of the No Cow family: Protein Powders. Available in Vanilla and Chocolate. Mix it in to your post-workout smoothie or add it to a low-sugar baking recipe. Plant-based, clean ingredients, amazing taste, unmatched texture. Expect anything different?
Come to think of it, this product is different. All other powder canisters are made of plastic, and are only partially recyclable. That also means they're still partially harmful on the environment.
ALUMINUM: INFINITELY RECYCLABLE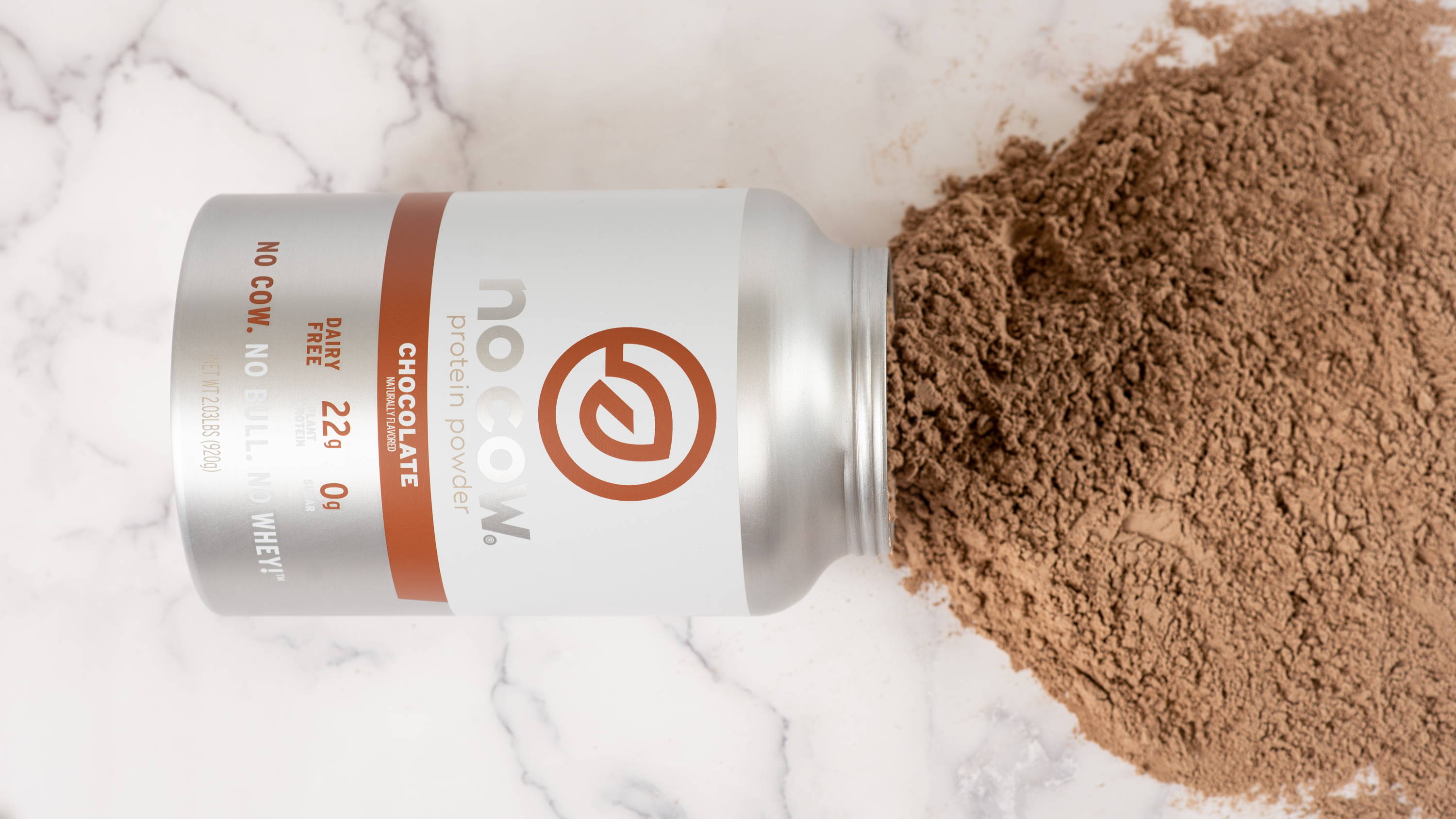 ---