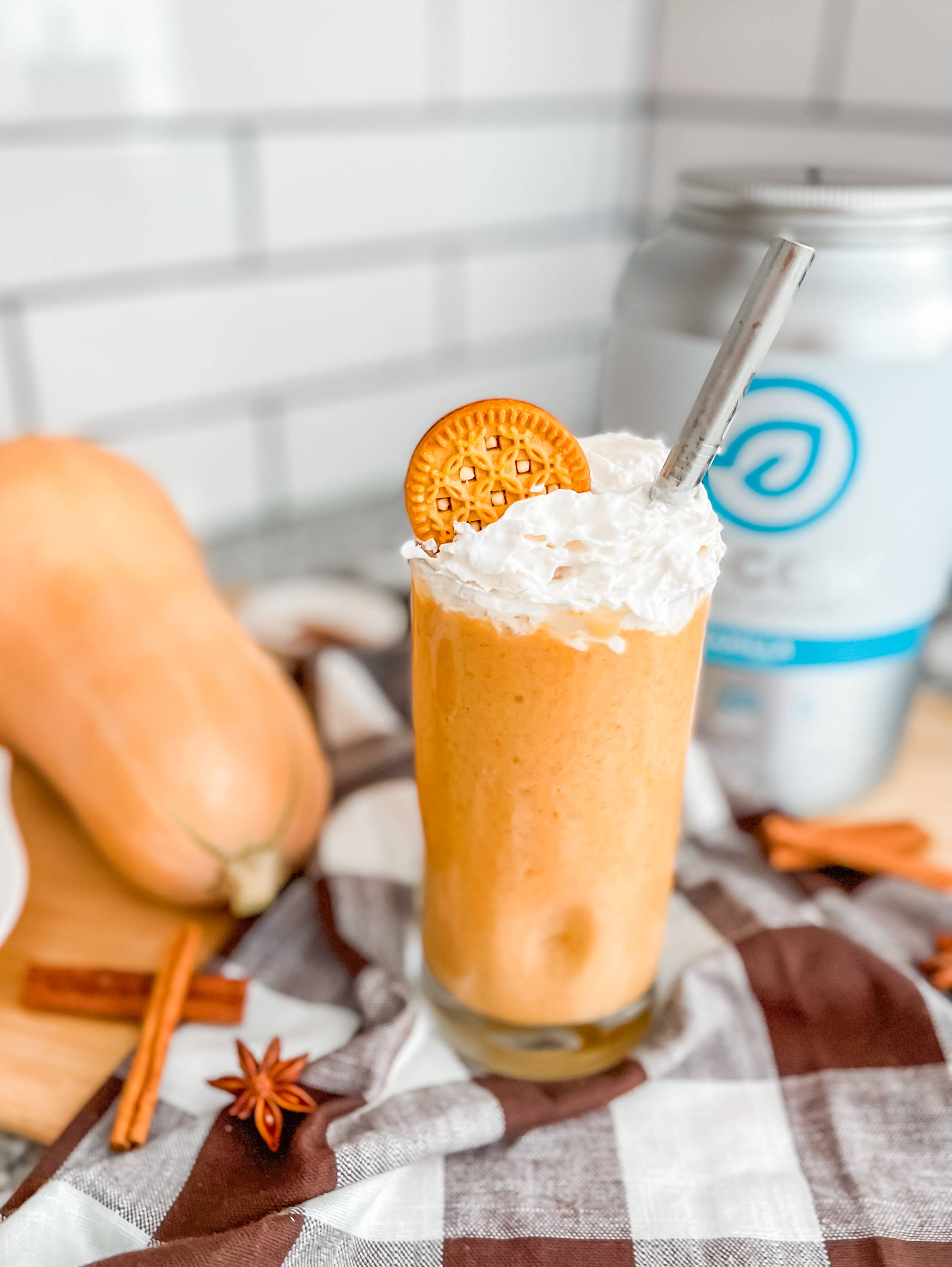 Photo Credit: Krystal Goodman
We're celebrating the changing of seasons with this Fall inspired smoothie recipe. Not only does it have some fantastic nutritional benefits, but it is packed with protein and filled with our favorite seasonal flavors. We are feeling festive, and what better way to start the season than this feel-good recipe?
---
INGREDIENTS:
1 scoop of No Cow Vanilla Protein Powder

1/2 cup of roasted butternut squash

1/2 cup of canned pumpkin

1.5 tsp of cinnamon

1.5 tsp of all spice

1 to 2 tsp of stevia or monk fruit extract

1 cup almond milk

1 cup ice
INSTRUCTIONS:
Add together all the ingredients into a blender and mix until smooth.

Check the taste and adjust to your liking.

Optional: top with dairy free whipped cream and a grain free cookie!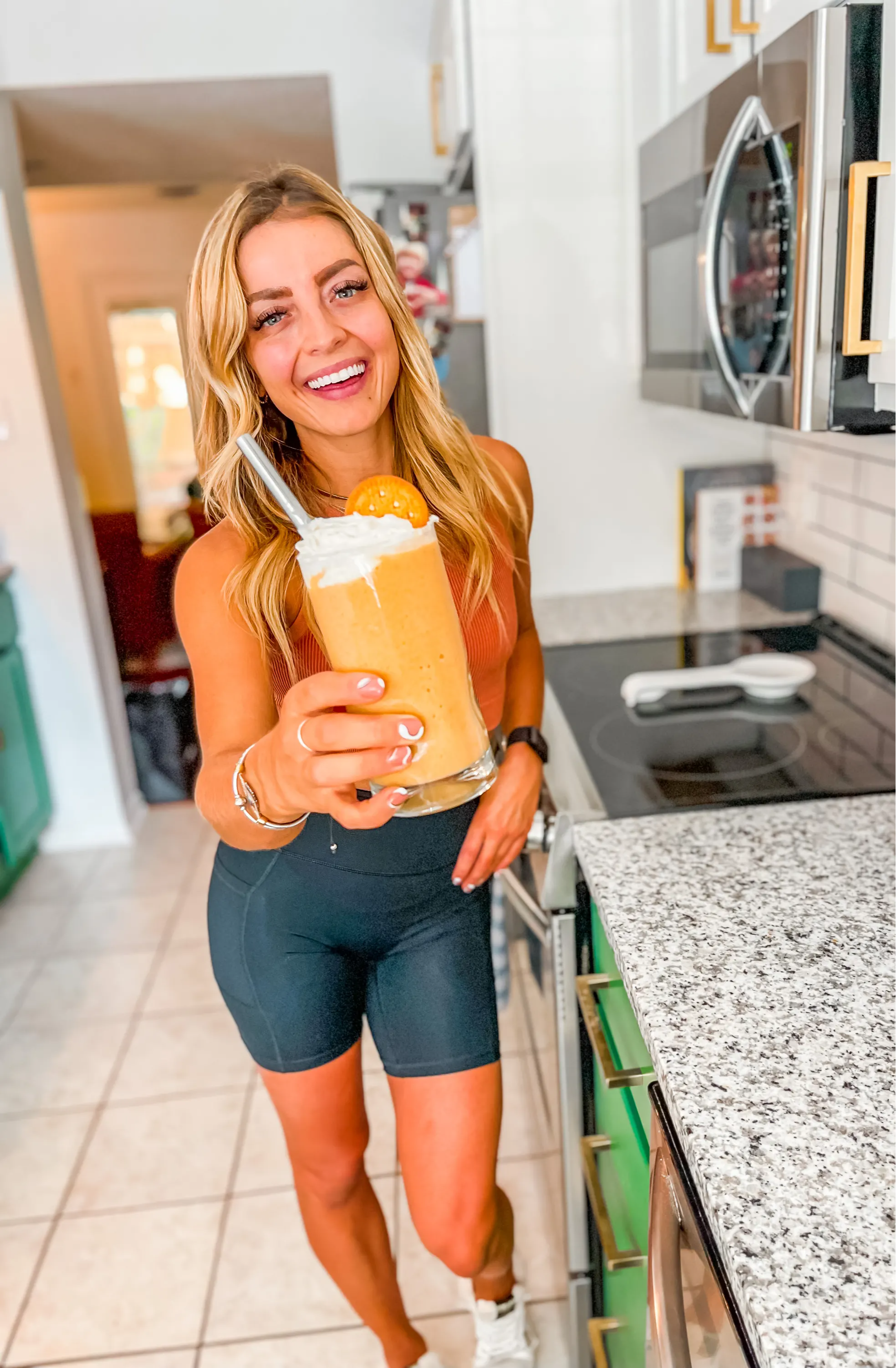 Photo Credit: Krystal Goodman
Health benefits:
This Pumpkin and Butternut Squash Protein Smoothie is packed full of amazing autumn spices that are full of nutritional benefits. From lots of the skin healthy vitamin A to blood sugar regulating cinnamon this smoothie is bound to give you energy and leave your skin looking its best.
Butternut:
Winter squash is most known for its high amount of Vitamin A, anti-aging and healthy skin properties. Its also high in vitamin C, B-vitamins, potassium and magnesium; all which are great for boosting immunity and potent antioxidants. Last but not least, it's a great source of fiber which aids digestion and lowering cholesterol.
Pumpkin:
This autumn favorite is known primarily for its antioxidants like vitamin C and beta-carotene, where the body converts the latter into disease-fighting vitamin A. These antioxidants are also great for anti-aging by keeping your hair and skin healthy and glowing. It also contains high fiber which is amazing for digestion and lowering cholesterol.
Pumpkin Pie Spice is a Blend of: cinnamon, nutmeg, ginger and cloves
Cinnamon:
There are various studies that show cinnamon helps to regulate blood sugar and lipid levels in type 2 diabetics. It activates enzymes that stimulate cells, which helps the body to respond more effectively to insulin.
Cloves:
Clove is a popular spice used in a variety of ways across the world, particularly in Asia. People use all parts of this plant including the dried buds, stems, and leaves and is known for its medicinal properties. Minerals in cloves include potassium, calcium, sodium, and magnesium which are electrolytes that aid in hydration and overall health. The vitamins found in them include vitamin E, folate, and niacin.
Nutmeg:
This spice tends to be used sparingly but is loaded with nutritional benefits. These beneficial components include dietary fiber, manganese, thiamin, vitamin B6, folate, magnesium, and copper. These important nutrients may help with regulating blood pressure, protecting the liver, brain health, and promote digestion to name a few.
Ginger:
This super spice is most known as being a potent antioxidant which acts as an anti-inflammatory agent, anti-nausea compound, and anti-cancer agent.
All Spice:
While the flavor is certainly unique, what makes this spice even more intriguing is the high concentration of beneficial nutrients and organic compounds such as eugenol, quercetin, and tannins. These nutrients make it a potent antioxidant that neutralizes free radicals and eliminates them from the body. This spice is also very high in vitamin A and C, making it an immune booster for the body.
Vanilla:
This fragrant bean is full of flavor and health benefits. It is derived from the orchid and is known for its natural healing abilities. It is rich in calcium, iron, magnesium, phosphorous, and potassium. It can also reduce inflammation, particularly in the liver, along with many other important health benefits.
Take advantage of all of these aromatic fall flavors by trying this smoothie that packs all of these ingredients into one drink to satisfy your pumpkin spice latte craving this Fall!
---
---
About the Author, Krystal Goodman, FNTP CPT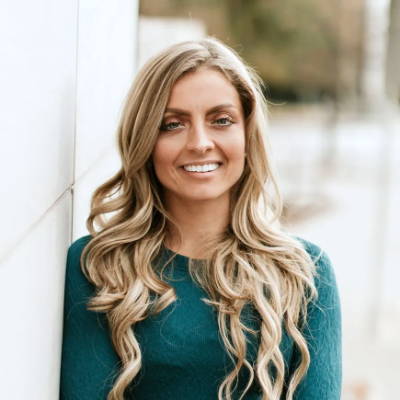 Krystal Goodman's passion for fitness and nutrition can only be matched by her clients' performance in the gym and her first-class meal-prep in the kitchen. For over ten years, Krystal has been a personal trainer, building an impressive cliental and more importantly, a reputation for her clients' results. She has shown her expertise as a coach while instructing fitness classes at Orange Theory Fitness when she isn't training one on one. Her national certification through NCSF as a CPT along with another in the world-renowned TRX training system, and AAHFF for nutrition make Krystal a versatile fitness professional.
Moreover, Krystal launched K's Klean Nourish in the Fall of 2019, creating the perfect clean-eating meal planning and nutrition counseling solution for life's demanding schedules. Nationally certified by the Nutritional Therapy Association as a Nutritional Therapy Practitioner, Krystal's knowledge of nutrition extends far beyond her incredible penchant for cooking.
You can view more of Krystal's info and resources by heading to her website: http://kskwikkleankitchen.com/ and following her on Instagram @thekleannutritionist!
---
---
Available in Vanilla and Chocolate. Mix No Cow Protein Powders in to your post-workout smoothie or add to a low-sugar baking recipe. Plant-based, clean ingredients, amazing taste, unmatched texture. Expect anything different?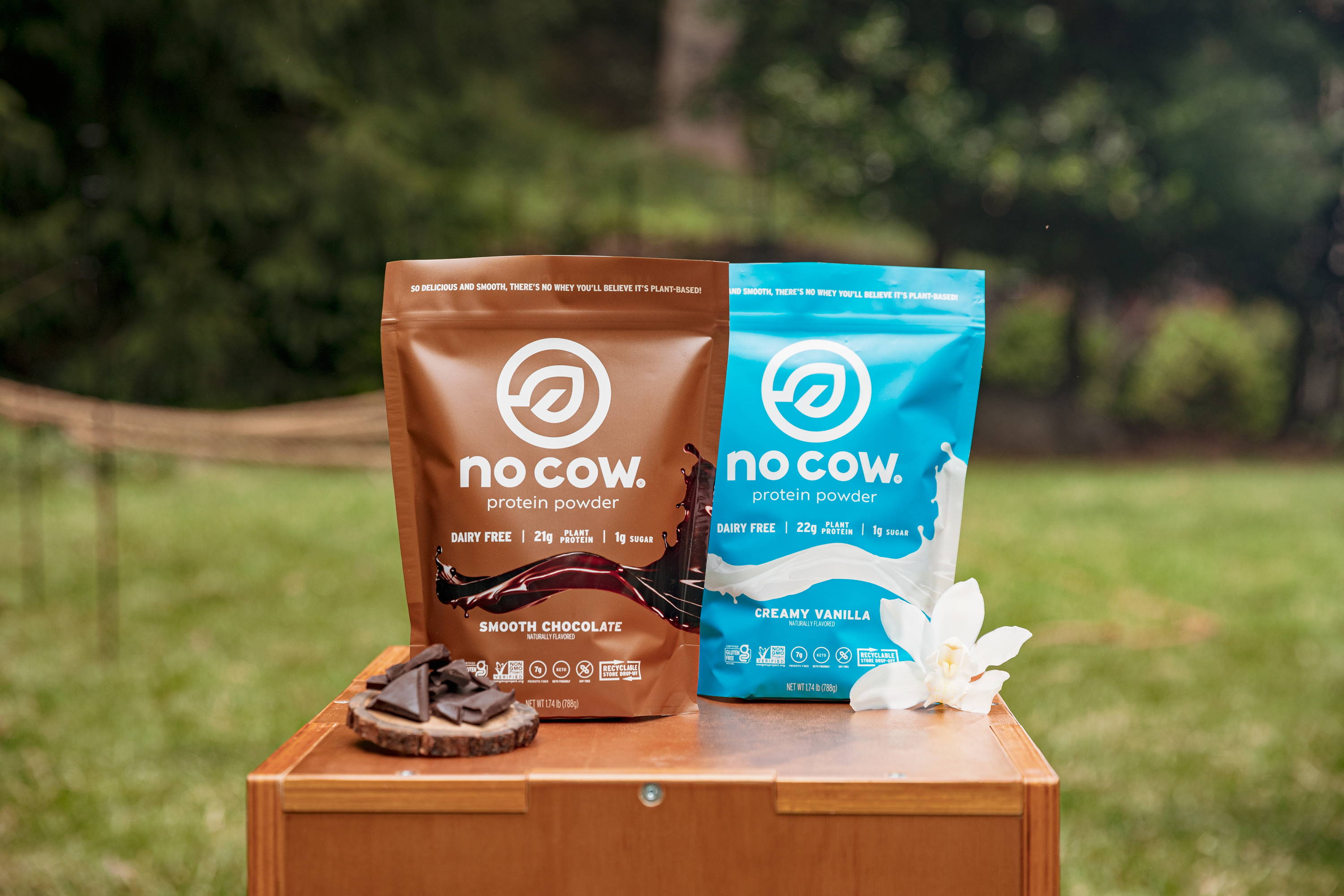 ---